College Planning
Starting college for the first time or returning to complete your degree is a big step, but the boost in your earning potential once you get your degree makes the effort worth it.
Many adults return to school to support a career change or to update their job skills. Others may have experienced a life-changing event, such as a marriage, divorce or relocation. Whatever the reason, a college degree can truly change a person's life. A college degree will give you a competitive advantage in the marketplace and provide you the skills and knowledge valued by employers. Also, a college graduate will make about $1 million more in a lifetime than a high school graduate.
Beyond increased earning potential, there are many benefits to completing a degree, including:
Greater job security.
Better opportunities for career advancement.
An enriched knowledge base and new perspective for work and life.
Managing work, family obligations, community involvement and school work can be challenging, but Oklahoma colleges and universities have flexible degree options that meet the needs of adult learners, including:
Campus locations close to your home or office.
Evening and weekend programs.
Online course offerings.
Accelerated degree programs.
The State Regents offer many programs and services to help you return to college or begin your college education. For more information, visit the online Student Center for adult learners, email StudentInfo@osrhe.edu or call 800.858.1840 (225.9239 in Oklahoma City).
::Reach Higher::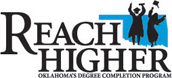 The Reach Higher program is your second chance to finish your associate or bachelor's degree - while you keep your normal routine, maintain your normal work hours and still have time for your family. More than 14 institutions across the state participate in this program. Learn more and find a campus near you at ReachHigherOklahoma.org.
::College Planning for Your Kids::
To learn more about preparing your children for education after high school, visit our College Savings & Planning page under the parents tab.