::2014 OKMM by the Numbers Infographic::

How many workshops did OKMM hold in 2014? Did OKMM distribute more high school or college YMM guides last year? Find out by downloading our OKMM by the Numbers infographic.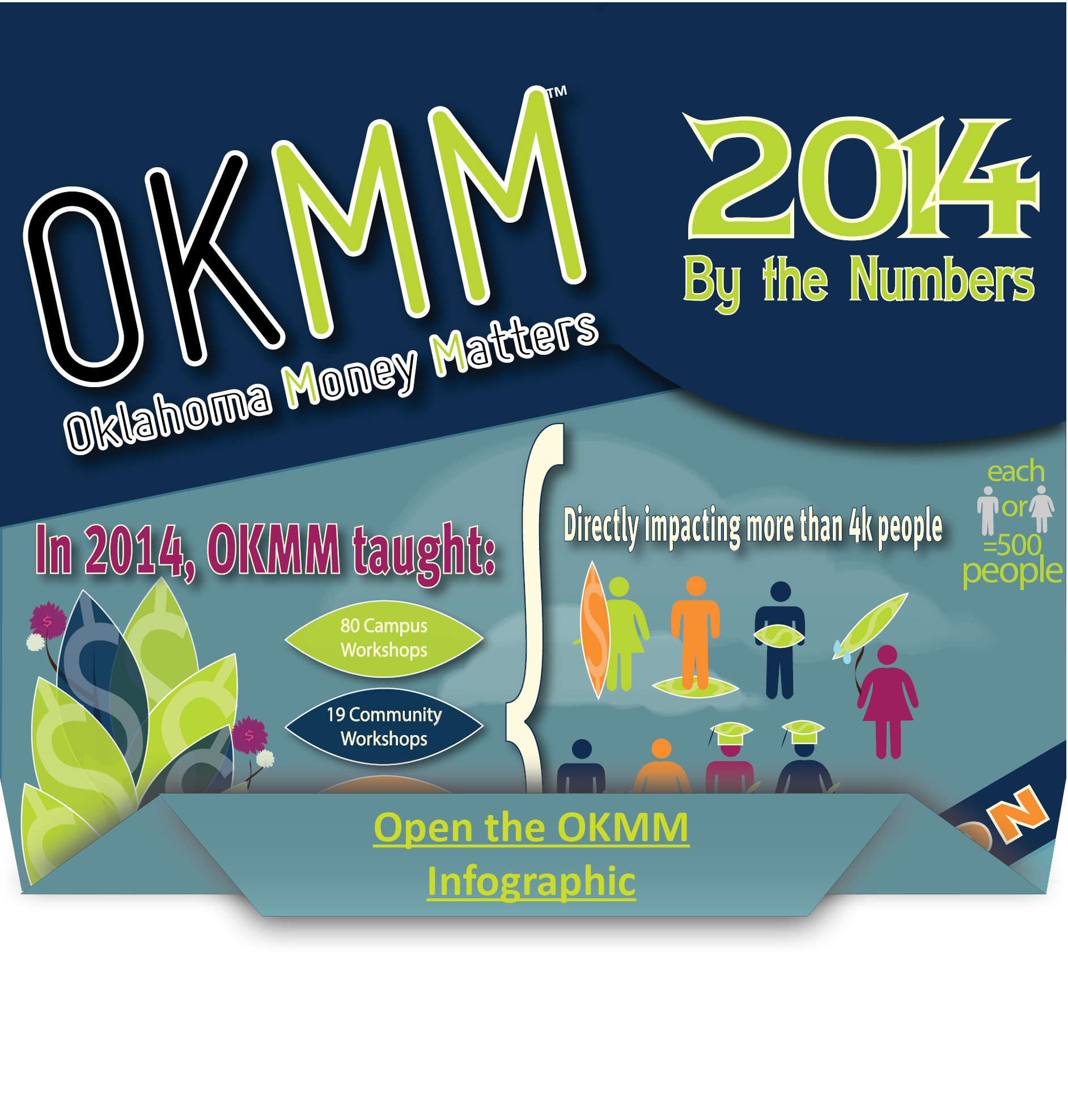 ::Campus Professionals: OKMM Offers Fall Workshops::

With fall semester around the corner, are you still looking for engaging, fun workshops for your students? Consider inviting OKMM to help your students find financial freedom by spending – and borrowing – wisely. Schedule a free OKMM workshop today!
OKMM is Oklahoma Money Matters, the financial education initiative of the Oklahoma College Assistance Program and Oklahoma State Regents for Higher Education. OKMM provides relevant, engaging information and materials to help college students make wise financial choices during their college years and beyond. In our workshops, students learn budgeting techniques, practical ways to save money, steps to prevent identity theft, how their credit report affects their future, and how to successfully manage student loans.
After your OKMM workshop or seminar, students can continue building their personal finance skills by accessing the many instructional resources on our website, including interactive money management tools, self-paced learning modules in a variety of consumer topics, newsletters, and podcasts. Visit OklahomaMoneyMatters.org to learn more.
To schedule an OKMM workshop on your campus, or for more information about how we can help you incorporate personal finance education within your existing service structure, please contact us at 800.970.OKMM or oklahomamoneymatters@ocap.org.
::Spanish Publications Now Available To Service Providers::

Two of our popular money management guides are now available in Spanish.


If you provide financial education services to Spanish-speaking populations, we encourage you to explore Your Money Matters: An Adult's Guide to Personal Finances, designed for workplace education and Your Money Matters: Your Money, Your Way, created to help adults with fewer financial resources handle their money, even if they've already reached a financial crisis point.
Print copies may be available upon request, depending on inventory level. If you're hosting an educational workshop or event, contact Melissa Neal, OKMM Outreach Coordinator, at 405.234.4253 or mneal@ocap.org to discuss your specific needs. To download any of our Your Money Matters guides, visit OKMM's resources page.