::2015 OKMM by the Numbers Infographic::

What do you get when you add up OKMM's web sessions, publication distribution and Financial Education Workshops in 2015? Find out by downloading our OKMM by the Numbers infographic.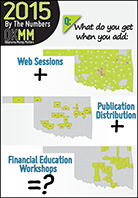 ::America Saves Week: Feb 22-27::

Everyone benefits from making saving a habit. This February, participate in America Saves Week by joining over 390,000 people who've pledged to make saving a priority. Visit AmericaSaves.org to make the most of America Saves Week and kick-start your saving efforts. Explore the For Savers section to: 
Set a realistic savings goal and create a plan to reach it.
Learn the benefits of setting up automatic saving deposits.
Sign up to receive saving tips and motivational reminders through America Saves text messages.
 Read motivating "successful saver" stories from people just like you.
Explore savings tools and resources, like the saver checklist, personal wealth estimator, home wealth estimator and American Saver newsletter.
Save and win with SaveUp. America Saves has partnered with SaveUp.com to put the fun back in savings. Sign up for this free program and reap the rewards of positive saving behavior.
Whether you're saving for retirement, education or a rainy day, take part in America Saves Week by signing the America Saves Pledge to officially commit to make saving a priority in 2016.
::Spanish Publications Now Available To Service Providers::

Two of our popular money management guides are now available in Spanish.


If you provide financial education services to Spanish-speaking populations, we encourage you to explore Your Money Matters: An Adult's Guide to Personal Finances, designed for workplace education and Your Money Matters: Your Money, Your Way, created to help adults with fewer financial resources handle their money, even if they've already reached a financial crisis point.
Print copies may be available upon request, depending on inventory level. If you're hosting an educational workshop or event, contact Melissa Neal, Educational Services Manager, at 405.234.4253 or mneal@ocap.org to discuss your specific needs. To download any of our Your Money Matters guides, visit OKMM's resources page.
::2014 OKMM by the Numbers Infographic::

How many workshops did OKMM hold in 2014? Did OKMM distribute more high school or college YMM guides last year? Find out by downloading our OKMM by the Numbers infographic.