::New FAFSA Filing Date: Oct. 1 ::

Question: What's new and improved about the Free Application for Student Aid for the 2016-17 school year?

Answer: College students and high school seniors will be able to submit the FAFSA beginning Oct. 1, 2016, instead of waiting until Jan. 1, 2017. Additionally, families will be able to use their previously filed tax information, which means that this year, families can submit a completed FAFSA using their 2015 tax return.
Take action now to be ready!
If you're a high school counselor, educator or campus partner, plan to start FAFSA awareness campaigns and schedule events as soon as possible. Contact UCanGo2.org to sign up for email updates and to order a free Counselor Toolkit, which includes new FAFSA tools.
If you're a parent or student, bookmark StartWithFAFSA.org for relevant updates and free resources, including UCanGo2's brochure, Finish the FAFSA in Five Steps.
Like UCanGo2 on Facebook for information about a wide variety of scholarships and college planning tips.
The upcoming changes to the FAFSA offer numerous benefits for students and parents. As always, it's important to submit the FAFSA as soon as possible after it's released Oct. 1 to help meet state and federal financial aid deadlines, including for some grants and scholarships.
::2015 OKMM by the Numbers Infographic::

What do you get when you add up OKMM's web sessions, publication distribution and Financial Education Workshops in 2015? Find out by downloading our OKMM by the Numbers infographic.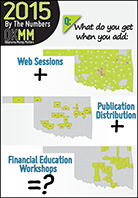 ::Spanish Publications Now Available To Service Providers::

Two of our popular money management guides are now available in Spanish.


If you provide financial education services to Spanish-speaking populations, we encourage you to explore Your Money Matters: An Adult's Guide to Personal Finances, designed for workplace education and Your Money Matters: Your Money, Your Way, created to help adults with fewer financial resources handle their money, even if they've already reached a financial crisis point.
Print copies may be available upon request, depending on inventory level. If you're hosting an educational workshop or event, contact Melissa Neal, Educational Services Manager, at 405.234.4253 or mneal@ocap.org to discuss your specific needs. To download any of our Your Money Matters guides, visit OKMM's resources page.