::Fall into Financial Freedom: Schedule a Financial Workshop this Fall::

If you ask your students what "financial freedom" means to them, they'll give an array of answers – some more defined than others. Help them find financial success by partnering with Oklahoma Money Matters (OKMM) to host a personal finance workshop. Not only will personal finance education help your students plan for life during and after college, it may also help them succeed in class and boost retention efforts on your campus. If you're in charge of planning fall classes, seminars and workshops and agree that financial education is a critical element of student success, OKMM would love to help.
For 13 years, OKMM has provided relevant, engaging information and materials to help students make wise financial decisions. Our free workshops explore living on a college budget, saving money, understanding credit, preventing identity theft and managing student loans and financial aid. To complement our customizable presentations, we offer online learning modules, downloadable lesson plans and activities and access to free online tools and resources.
To schedule a workshop on your campus or request more information, contact Ava Doyle at 405.234.4488 or adoyle@ocap.org to discuss your needs. Workshops are subject to staff availability. Schedule yours today!
::OCAP's Partnership with Student Connections is an Investment in Student Success::

The Oklahoma College Assistance Program (OCAP) recognizes the impact default prevention has on the mutual success of institutions and borrowers. Helping schools excel in this area is what led Mary Heid, OCAP's executive director, to work with Student Connections, a nonprofit affiliate of USA Funds focused on enhancing student success in college and career. Under Heid's leadership, OCAP forged an arrangement with Student Connections to provide default rate management support to 26 Oklahoma campuses with CDRs (cohort default rates) above 10 percent. The agreement provides the schools with the ability to offer comprehensive grace period and default prevention counseling to their borrowers.
Since OCAP began working with Student Connections, it has seen marked improvements in beneficiary school CDRs. "Our schools all seem extremely happy with the service we've been able to offer them through Student Connections," said Heid. "Our state CDR rate has been declining at a greater pace than the national rate, which makes us feel really good that our service is working."
Student Connections grace counseling informs borrowers of all options, which may include a return to school. In all cases, the objective is to determine the course of action best for the borrower's individual circumstances. Since the OCAP partnership with Student Connections began, students who underwent grace counseling were more than 40 percent less likely to enter delinquency on their student loans.
Whether it's measured in reduced default and delinquency rates or in the hundreds of millions of cured federal loan dollars, it's clear the OCAP-Student Connections partnership has helped preserve the value proposition of higher education in Oklahoma. As Heid says, "I think this investment in our students and institutions is rather unique, and we are very pleased that we've been able to do that with an industry partner that shares our vision of student success."
Read more about the Student Connections-OCAP partnership at the
Student Connections website
.
::New FAFSA Filing Date: Oct. 1::

Question: What's new and improved about the Free Application for Student Aid for the 2016-17 school year?

Answer: College students and high school seniors will be able to submit the FAFSA beginning Oct. 1, 2016, instead of waiting until Jan. 1, 2017. Additionally, families will be able to use their previously filed tax information, which means that this year, families can submit a completed FAFSA using their 2015 tax return.
Take action now to be ready!
If you're a high school counselor, educator or campus partner, plan to start FAFSA awareness campaigns and schedule events as soon as possible. Contact UCanGo2.org to sign up for email updates and to order a free Counselor Toolkit, which includes new FAFSA tools.
If you're a parent or student, bookmark StartWithFAFSA.org for relevant updates and free resources, including UCanGo2's brochure, Finish the FAFSA in Five Steps.
Like UCanGo2 on Facebook for information about a wide variety of scholarships and college planning tips.
The upcoming changes to the FAFSA offer numerous benefits for students and parents. As always, it's important to submit the FAFSA as soon as possible after it's released Oct. 1 to help meet state and federal financial aid deadlines, including for some grants and scholarships.
::2015 OKMM by the Numbers Infographic::

What do you get when you add up OKMM's web sessions, publication distribution and Financial Education Workshops in 2015? Find out by downloading our OKMM by the Numbers infographic.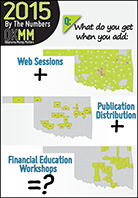 ::Spanish Publications Now Available To Service Providers::

Two of our popular money management guides are now available in Spanish.


If you provide financial education services to Spanish-speaking populations, we encourage you to explore Your Money Matters: An Adult's Guide to Personal Finances, designed for workplace education and Your Money Matters: Your Money, Your Way, created to help adults with fewer financial resources handle their money, even if they've already reached a financial crisis point.
Print copies may be available upon request, depending on inventory level. If you're hosting an educational workshop or event, contact Melissa Neal, Educational Services Manager, at 405.234.4253 or mneal@ocap.org to discuss your specific needs. To download any of our Your Money Matters guides, visit OKMM's resources page.