Protecting your Child's Identity
Hopefully you're taking precautions to protect yourself from identity theft, but did you know your child could be at risk, too? Because a child's Social Security number (SSN) is new and has no activity associated with it, it's easy to fraudulently associate a different name and birth date with it. Often times, identity thieves can use a child's SSN for many years before the fraud is detected.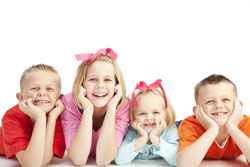 When someone asks for your child's SSN, always question why it's needed and how the agency keeps the information safe. If anyone asks for your child's SSN over the phone, see if you can provide it in person instead. Criminals are cunning, and can lead you to believe they legitimately need access to this information. By providing this information in person, you could potentially avoid a scam aiming to gain access to your child's personal information.
When asked for your or your child's SSN in public, type it into a calculator and show it to the requester, instead of saying it out loud. When you're finished, simply clear the display.
Even though it seems like a good precaution, both the Federal Trade Commission and the Identity Theft Resource Center discourage parents from checking their child's credit report unless you have reason to suspect fraud. Checking a child's report is different from checking your own credit report—there's no congressionally mandated free report for a child, like adults are given through AnnualCreditReport.com.
Experts recommend checking your child's credit report at age 16. If fraudulent activity has occurred, there's generally enough time to get the negative information corrected before applying for financial aid.
For more information about protecting your child's privacy, visit the Federal Trade Commission's webpage.