4/24/2014
Focus on Finances for Freshman Orientation
Are your students' financial goals unclear? Do they need help focusing on their financial future? If so, Oklahoma Money Matters (OKMM) can help by providing free personal finance education during your freshman orientation workshops.
OKMM provides incoming freshmen and transfer students relevant, applicable information and materials to help them make wise financial choices during their college years and beyond. We'll teach them about different budgeting methods, practical ways to save, how to manage credit and avoid identity theft, and how to borrow student loans wisely.
We also offer instructional resources that can enhance the financial education you're already doing in the classroom, including interactive money management tools, self-paced learning modules, newsletters and podcasts. Visit OklahomaMoneyMatters.org to learn more.
To discuss adding financial education to your freshman orientation program and check staff availability to teach a workshop on your campus, contact Ava Doyle at 405.234.4488 or adoyle@ocap.org.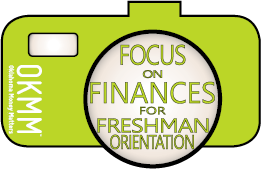 Angela Caddell
Director for Communications, Financial Education, and Outreach Services
OCAP
P.O. Box 3000
Oklahoma City, OK 73101-3000
acaddell@ocap.org
www.OklahomaMoneyMatters.org
www.ocap.org