College Savings & Planning
Even if the thought of paying for your child's college education seems daunting, take action now. Start by putting a modest amount monthly into an account and adding more as your finances allow. The earlier you start saving, the more time your money has to grow.
::529 Plans::
Parents have options for maximizing their education savings. A 529 college savings plan offers a simple way to save money for your child's college education. Each state is different; however, one of the key elements to a 529 plan is that you pay no taxes on the account's earnings.
The Oklahoma 529 College Savings Plan offers several advantages, including:
an Oklahoma tax deduction.
a choice of investment options.
funds can be used at thousands of higher education institutions in the U.S. and abroad.
If your child doesn't go to college, the money in your 529 plan can be transferred to another beneficiary within the same family or you can withdraw the funds, with penalty. For more information about Oklahoma's 529 College Savings Plan, call 877.OK4SAVING toll free (877.654.7284) or visit OK4Saving.org.
::Plan for Expenses::
When saving for college, it's important for you to understand how much the cost will be for your family. College expenses vary, depending on the type of college or university, the number of courses a student takes, the student's major, and his or her personal lifestyle, among other factors.
OKcollegestart.org, a website about preparing and planning for higher education in Oklahoma, provides users with a chart highlighting estimated expenses. Of course, if your child is still years away from college, that cost will only increase. Use this calculator from the College Savings Plans Network to make sure you're saving enough to meet future tuition needs.


::Minimizing the Cost::
With early planning, there are a variety of ways to manage the cost of your child's education. In addition to this list, visit UCanGo2.org to learn more about planning, preparing and paying for college.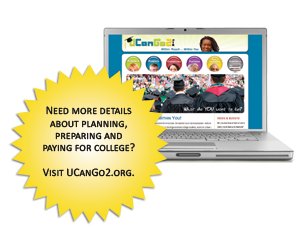 Check out concurrent enrollment. This program allows eligible high school juniors and seniors to take credit-earning college courses, up to six hours per semester. Tuition is at a discounted rate and classes can be tranferred to some post-secondary institutions for college credit.
Look into Advancement Placement (AP) courses.These courses allow your child to take college level coursework in high school. Many Oklahoma colleges and universities award college credit to students who successfully complete these courses and pass the corresponding AP exams.
Check out the College-Level Examination Program (CLEP). The CLEP program gives your child the opportunity to earn college credit based on what he or she already knows. The CLEP consists of thirty-three tests in a variety of subjects and your child picks the test they'd like to take based on the college credits they're seeking. This process is often referred to as "testing-out" and can save your child time and you money. Visit the CLEP college search to see if your child's chosen college accepts CLEP.
Find cheaper solutions. Taking basic courses at a community college, or living at home for the first few years are all tried-and-true ways to slash the cost of college, and still receive a great education and experience.
::Find Financial Aid::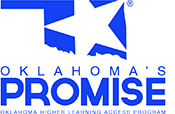 Students and parents are always on the lookout for grants and scholarships. One of the most popular scholarships in our state is Oklahoma's Promise. Your child must enroll in this program during the 8th, 9th and10th grade, and meet other enrollment criteria. To learn more, visit OKPromise.org. Also, visit OKcollegestart.org to educate yourself about the different forms of "free money" available to your child.
It's also important to complete the FAFSA (Free Application for Federal Student Aid) even if you think you make too much money. The FAFSA must be completed as soon as possible after Jan. 1 of your child's senior year in high school and every year after in which aid is needed. Remember, the first "F" in FAFSA stands for "free" so never pay to complete the form. The official FAFSA website is FAFSA.ed.gov.
To learn more about the FAFSA process, including some answers to frequently-asked questions, visit UCanGo2.org/FAFSA .